"My job with teen athletes is simply,
Get them bigger, stronger and elite"
Elite Athletes are just that…Elite, but here's the truth, they seldom start out that way. Teens who are developing must train to become elite, the kind of athlete that a D1 or D2 school will offer full or partial sports scholarships. What I invest in is your son, or daughter and to take an emerging high school student and get them ready to play on the highest level of collegiate sports.
Football
Hockey
Lacrosse
Wrestling
Track
Basketball
For over 35 years I have taken student athletes, and helped prepare them to make the jump to being an Elite Athlete. All of which is done thru my proven training program of resistance strength conditioning. At Humble Fitness, Elite Athletes are our core business and I have a record of delivering safe and extraordinary results.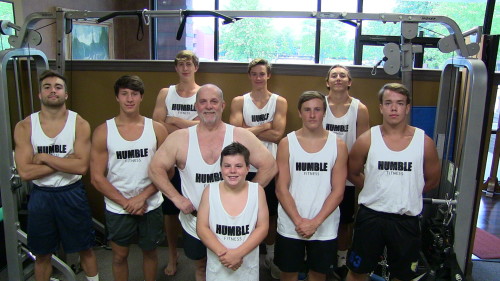 Teen Athlete Training
John Humble loves training teenage athletes wanting to gain more size and strength. Being a former collegiate football player and National and World champion in strength and physique competitions, John knows 1st hand what it takes – mentally and physically – to achieve a winning attitude and a winning physique. Under John's guidance and training, teenage athletes see amazing results in a short period of time. This is all done one-on-one, no group sessions to take time and attention away from your young athlete.